Explore Taiwan
Booking Dates
05/09/2022 through 10/16/2023
Travel Dates
05/09/2022 through 10/19/2023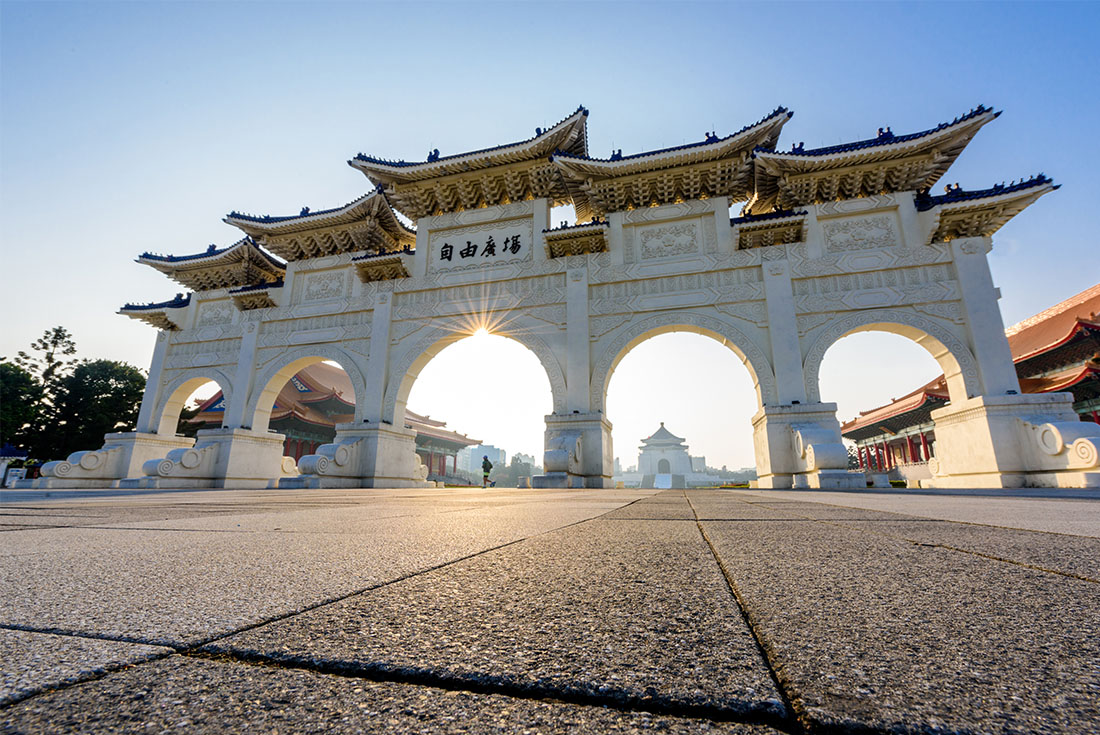 Explore Taiwan

Breathtaking coastline, lush green landscapes and tranquil temples are only the beginning on this 11-day adventure through tantalising Taiwan. Squeeze between food stalls and medicine pedlars in narrow alleyways. Get behind-the-scenes glimpses (and hands-on experience) in local industries. Taste some of the most innovative dishes in Asia, from oyster omelettes to taro balls. Perhaps best of all? Discover the misty mountains and rugged coastal forests that have captured the attention of so many powers throughout history and earned Taiwan the name 'the beautiful island'.

Activities
Taipei – Dihua Street walk
Taipei – Sweet Potato Mama Urban Adventure
Taipei – Chiang Kai Shek Memorial Hall
Hualien – Night Market
Hualien – Danong Dafu Forest Park
Hualien – Qingshui Cliff
Taroko Gorge – scenic hike
Yilan – Spring onion farm & cooking demostration
Yilan – Whisky distillery
Jiufen – Old Town walk
Turtle Island – Boat tour
Sun Moon Lake – Bike Ride
Sun Moon Lake – Ci'en Pagoda Trail walk
Puli – Hugosum Tea Farm
Puli – Chung Tai Chan Monastery
Sun Moon Lake – Kayaking
Lukang – Longshan Temple
Fangyuan – Oyster picking
Taipei – National Palace Museum
Taichung – Rainbow Village
Highlights
Discover Taiwan's food culture by collecting oysters in Wangong, sipping black tea at a plantation, cooking farm-fresh spring onion pancakes and touring the island's only whisky distillery.
Hike through lush mountain foothills to a 12-tiered pagoda that overlooks Sun Moon Lake, and later kayak on its serene waters.
Spend time slinging Taiwan's favourite root vegetable with Taipei's 'Sweet Potato Mamas', local women supporting their families one spud at a time.
Wonder at Taroko Gorge, then follow the aquamarine river along Shakadang Trail on a hike past marbled cliffs and immense boulders.
Explore the stalls pilled with dried fruits, herbs and medicines housed in a mixture of modern and historic buildings on Dihua Street.
| Day | Description | View All |
| --- | --- | --- |
| Day 1 | Taipei | Details |
| Day 2 | Taipei | Details |
| Day 3 | Hualien | Details |
| Day 4 | Hualien | Details |
| Day 5 | Yilan | Details |
| Day 6 | Turtle Island – Jiufen – Taipei | Details |
| Day 7 | Sun Moon Lake | Details |
| Day 8 | Puli – Sun Moon Lake | Details |
| Day 9 | Fangyuan – Taichung | Details |
| Day 10 | Taipei | Details |
| Day 11 | Taipei | Details |